Andrew Anglin at the Daily Stormer has written a good article giving a taste of the contradictory or cliched beliefs that NPCs (Non Playable Characters) hold.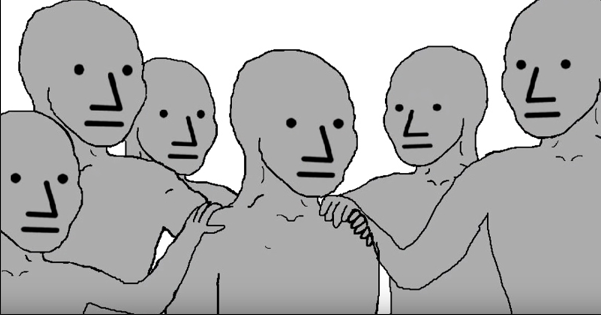 Here is a sample.
Climate change
White privilege
Drumpf
Abolish ICE
No borders
No human is illegal
All 11 million
Trump is a Nazi
You are a Nazi
No Nazis, no KKK, no fascist USA
Shame shame shame shame shame
Believe women
Refugees welcome
Immigrants commit fewer crimes than white people
Disagreeing with journalists is a violation of the First Amendment
Abortion is a human right
The NPC meme is dehumanizing
Putin is a dictator
Russia oppresses gays
Gender is a social construct
People are born gay
Russia hacked the election
There are Russian bots on Twitter
The Holocaust
Microaggressions exist
People can love whoever they want
Social media companies are private companies and can ban anyone
You have to bake this gay cake
There is a patriarchy
Women can do everything men can do
Human rights
Russian bots
Diversity is our strength
Bash the fash
Black lives matter
Unarmed black teen
Black slaves built America
Vegetarianism is healthy
Free health care is a human right
Free college is a human right
Rape culture
Islam means peace
Terrorism has no race or religion
Islamic terrorism is a result of the crusades
White men are actually terrorists
Healthy at every size
Standards of beauty
Old white men
Communism has never been tried
I believe in science
The Constitution applies to non-citizens
Guns kill people
Hate speech is not free speech
Hate speech is illegal
It is white people's fault third world countries are poor
I think tattoos on women can be sexy
Now obviously the only unifying belief to all these things is the anti-white, egalitarian dogma everyone is heavily indoctrinated with their whole lives. But what is missing from this list is a more Christian application of this idea. There are, what we are tentatively calling, GCP's, or Gospel Coalition Players. (I know gay, but it will have to do for now).
GCPs are people that are completely gaslit on all the Jewish theological narratives and their increasingly leftist social application. The same unifying anti-white beliefs undergird the GCPs "beliefs", but the Jews or their Judaized products have crafted a specifically theological language in order to ensure that no white mind goes escapes the poz.
The gospel implies loving and accepting anyone, no matter what
God loves and Jesus died for homosexuals (sexual deviant) too
White supremacists/nationalists aren't Christians and are going to hell
We are five point Calvinists and believe in the absolute sovereignty of God
We must adopt an evangelical missiology to reach uncontacted brown people
Missions means going into the urban centers right where you are
This overseas "missions" trip only costs $4,500
Jesus was a refugee
The gospel is a eschatological doctrine; its kingdom is otherworldly, it cannot be limited to social purposes
The gospel implies that white people have duty enact social justice
Nationalism contradicts Christian teaching
Imperfect vessel
Monoethnic congregations
Jesus hung out with sinners
Lets ban any church that is white supremacist from our organization
We shouldn't judge people based on the color of their skin
We need more diversity within our institutions
 Did you know that "Pro-life" means more than being against abortion?
The Church is a woman
I want my daughters to be submissive and empowered business women
Did you know that the Bible doesn't say anything against women holding elected political office?
Complementarianism [is for fags -*editor's' note]
I believe in freedom of speech/expression
Pornography is a sin
Paige Patterson is sexist, and possibly racist
Beth Moore said….
Joyce Meyers said…
Rachael Hollis said…
Any woman said…
Terrence Malik is the best cinematographer of this generation
Did you hear the new Sufjuan Stevens album?
Jesus is racially blind, he loves everyone
Jesus is a Jew
Anti-Semites can't be Christians because Jesus is Jewish
Martin Luther was anti-semetic
Blaming an entire race of people for the actions of a few is wrong, therefore we can't hold the current Jews culpable for killing Jesus
White people have a biblical duty to atone for the sins of the past
And so on and so forth. This is the best list I can compile at the moment. If there are any others please feel free to add them. The GCP phenomenon is real, and it must be meticulously catalogued so others can understand this so-called human they are dialoguing with. But this isn't a true dialogue, it is an interaction with something that has been preprogramed with a list of egalitarian and kosher clichés mixed with some bourgeois biblical rhetoric they use to express its "beliefs". It cannot tell you how it came to these beliefs, or why they are even true. It simply assumes that they are self-evident because of their conformity to the wider degenerate culture at-large.